the rosewell group
Home services
the rosewell group
Safe Harbour Home Services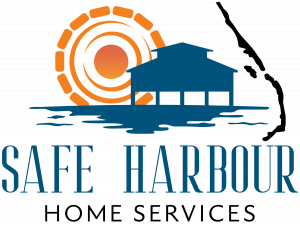 Safe Harbour Home Services was created to provide a comprehensive, one-stop company for all of your residential and commercial maintenance and repair/replacements needs. Our fully insured and professional staff is dedicated to exceeding your expectations regarding any home improvement project. Our years of experience in the North Carolina construction and property maintenance industry makes us home repair experts. Safe Harbor Home Services has built its reputation on quality workmanship and reliability that ensures your job is done correctly and efficiently, whether here in Northeastern NC, in the US Virgin Islands or beyond. Here's a look at some of the most popular home improvement services we offer.
Outer Banks Property Maintenance You Can Trust
If you own a vacation or rental property on the Outer Banks but don't live here year-round, you can probably relate to the difficulty of finding dependable help to keep it maintained and ready for each season. We can alleviate your concerns by being your on-site, trusted team. Whether you need simple handyman repairs or regular maintenance, we can work with you as your local partner. And if you are a local, you understand all too well how this salty, windy environment requires that you stay in front of the wear and tear. We're locals too, and we've been working in these conditions for years. You can count on us to know how to do your repairs cost effectively and quickly.
Storm Debris Cleanup & Removal
The Outer Banks of North Carolina is no stranger to seasonal storms. Hurricanes and tropical storms wreak havoc on the coast almost every year. Whether you own a home or business and are out of town or you just don't have the time or energy to keep up with heavy wreckage, you need someone who helps you pick up the pieces. We haul away storm debris and properly dispose of storm waste to keep your property pristine and clean.
Home Remodeling & Renovations
Interior and exterior home remodeling can be a huge undertaking. Maybe you've found a great deal on an older property in need of some repair or want to give your primary residence some much needed TLC. Our experienced team of remodeling experts can help you begin the transformation your property needs.
There's no project too big or too small for Safe Harbor Home Services. We've done everything from kitchen and bathroom overhauls to foundation installation and repair. Need to update and replace your windows and doors? What about installing siding to your home? Maybe you need to work on your deck or patio or want to increase your storage capacity with a storage shed. We've got you covered on any project that makes your home your own. We can complete any size remodeling project and work with you to give you the experience and service that make your project outstanding.
Safe Harbor Home Services Also Offers:
Deck repair
Punch list replacement
Roofing
Deck Building
Window replacement
Additions and remodels
Siding replacement
Property Management


THE ROSEWELL GROUP
CONTACT US
& START BUILDING
Prefer to just chat about project? Call us on 252-491-5146